As both a privacy tool and a design element, the right shades complete a room and contribute to its functionality. Modern shades come in a variety of materials, including everything from elegant lightweight sheers to functional blackout shades, and certain models that can help with interior temperature control. Shades also are available in both automated and manually operated models, ensuring that you find window treatments that fit not only the size and type of window, but also with your lifestyle. We offer a wide variety of styles and models, ensuring that you find the perfect shades to enhance your space. Browse our selection of top-quality shades, and find more information about the features of each product.
A few adjustments in your home can transform it into a fabulous one. That's where the shades for your windows come into play.
Installing shades in your windows would give you the opportunity to control the glare of sunlight. Many different types of shades are available for you to purchase and you need to pay attention towards the location of your window, your personal taste, and amount of light they let in and the views offered through them in order to make the right purchase.
If you are looking forward to create a well-lighted space inside your home, but don't want to uncover the windows, you can think about purchasing sheer shades. They have the ability to deliver a minimal look along with a refreshed feel. On the other hand, people who prefer a completely dark space tend to spend their money on complete black out shades. In case if you are concerned about fading away of your furnishings, you can think about purchasing the solar shades.
No matter what type of a shade you are looking for, Finishing Touches Chicago has got you covered. All our shades are made from the best quality materials by following the industry standards. As a result, you don't need to keep any doubts in your mind when you are purchasing shades from us.
Types of Hunter Douglas Shades:
Pirouette® Window Shadings
Our innovative Pirouette® Window Shadings feature soft horizontal fabric vanes attached to a single sheer backing. This allows for enhanced views to the outside while maintaining privacy and the full beauty of the fabric on the inside.
Schedule Your Free Consultation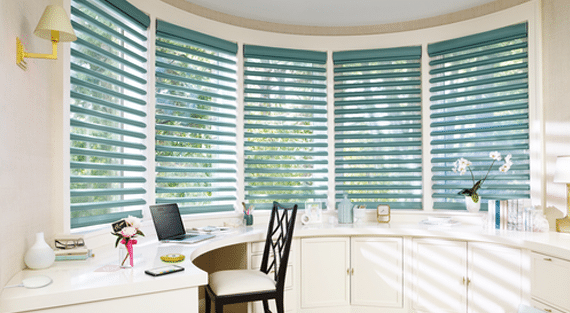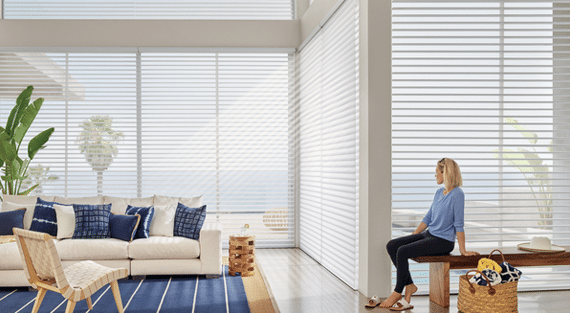 Silhouette® Window Shadings
Silhouette® Window Shadings feature soft adjustable fabric vanes that appear to be floating between two sheer fabric panels that beautifully diffuse harsh sunlight. Simply tilt the vanes to achieve your desired level of light and privacy.
Schedule Your Free Consultation
Duette® Honeycomb Shades with LightLock™ are the first of its kind to offer 100% darkness. The secret to the total room darkening lies within the patent-pending, U-shaped side channels.
Schedule Your Free Consultation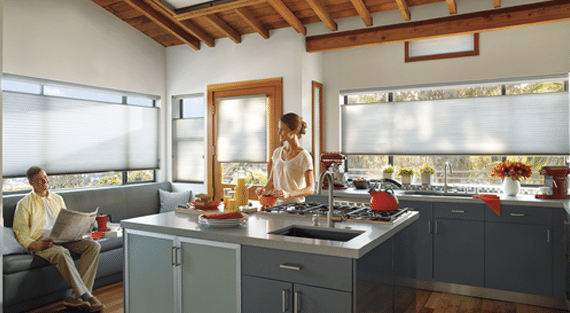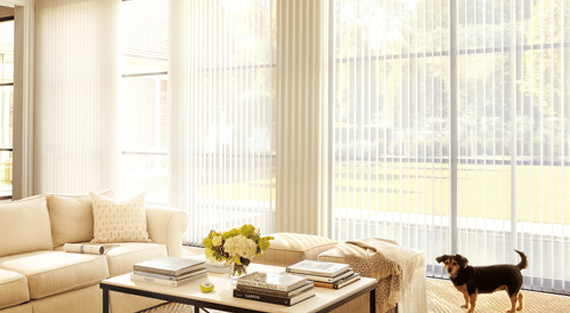 Luminette® Privacy Sheers
For wide windows and sliding doors, our Luminette® Privacy Sheers come in an array of sheer and drapery-like fabrics for unlimited light-control and privacy options.
Schedule Your Free Consultation
Vignette® Modern Roman Shades
Vignette® Modern Roman Shades feature consistent folds and no exposed rear cords, keeping windows uncluttered and safer. Choose from different fold styles and sizes, and beautiful fabrics that are low maintenance and easy to clean.
Schedule Your Free Consultation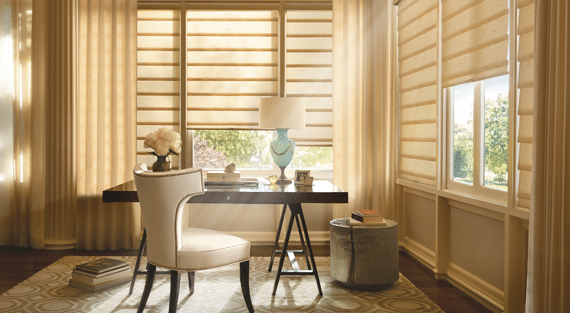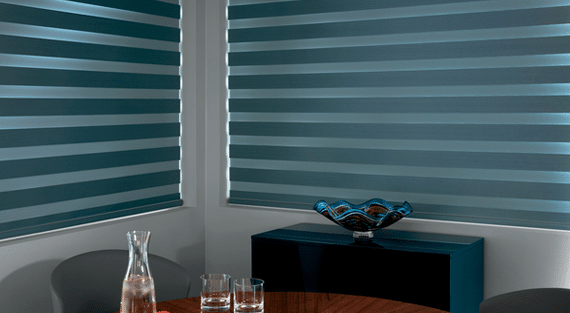 Designer Banded Shades combine alternating sheer and solid fabric bands in a single shade. This design allows the shade to transition from open to closed seamlessly, providing a modern solution for view-through, light control and privacy. It's a roller shade and sheer shading, all in one.
Schedule Your Free Consultation
Our Designer Roller Shades combine the ease and simplicity of a roller shade with hundreds of fabric choices—sheers to opaques, patterns to textures, and traditional solid colors.
Schedule Your Free Consultation